Parking & Directions
The Abbotsford Centre does not own or control any of the parking lots surrounding the venue, with the exception of the Premium Lot. We have provided the transportation, parking and information below solely as a courtesy and for your convenience only.
The Abbotsford Centre makes no recommendations or representations, express or implied, about any of these business services or establishments.
The Abbotsford Centre encourages you to make your own inquiries regarding services and accommodations for individuals with accessibility issues as there are other business services and establishments in the area.
We also welcome any recommendations that you may have and would like to share with other patrons. If we may be of any assistance, please feel free to contact us at info@abbotsfordcanucks.ca
ADDRESS
The Abbotsford Centre is located at 33800 King Rd. Abbotsford, British Columbia, V2S 8H8.
Directions to the Abbotsford Centre
ENTRY POINTS:
Gate 1 - The main entrance at Gate 1 is located on the East side of the building on University Way
Gate 2 - Suite and Loge box owners may enter through the Premium Seating Entrance at Gate 2 located to the right of the Main Entrance at Gate 1 on University Way
Gate 4 - King Road Entrance at Gate 4 is located on the North side of the building
Gate 7 - College Drive Entrance at Gate 7 is located on the South side of the building on College Drive
PARKING:
Pay parking is available around the Abbotsford Centre; please remember that your stall number is required to pay when paying at the Pay Stations or the Pay By Parking App.

PRICING
Green: $12 - per event
Blue: $5 - per event
Yellow: FREE - per event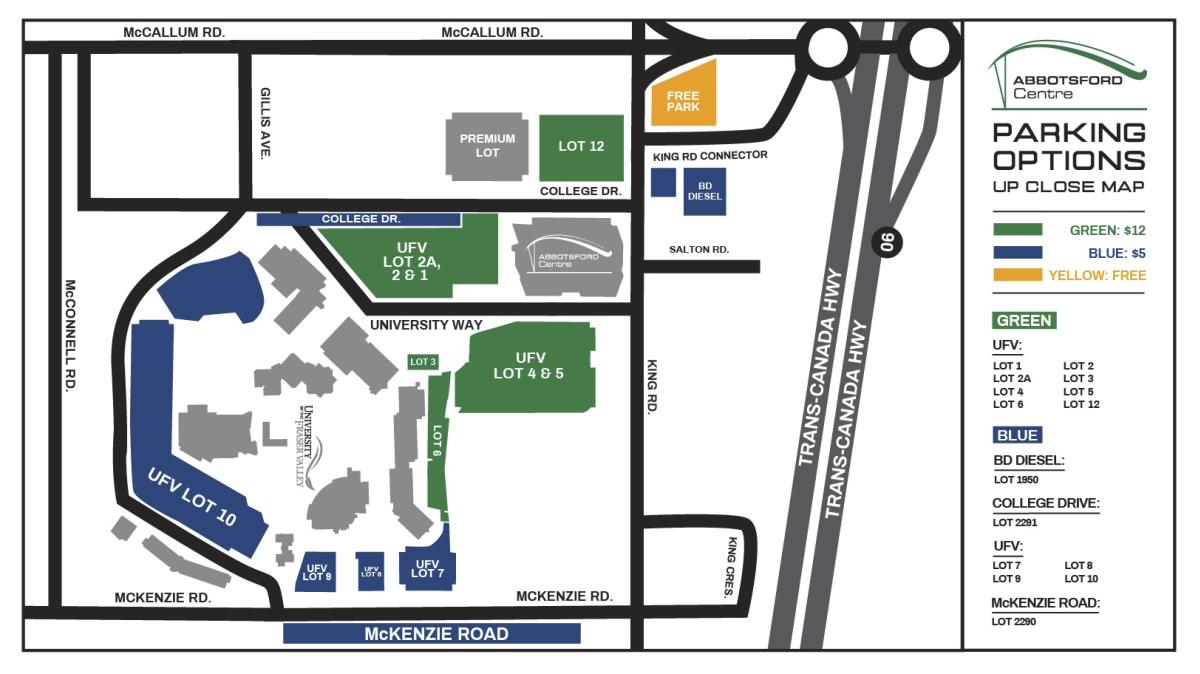 Location Of Pay Stations At Abbotsford Centre
Southeast side of the main entrance at Abbotsford Centre (Lot 4) – 4 units – credit card only (MasterCard, Visa, American Express, Discover)

Southside of the venue (south-east corner) (Lot 2A) – 4 units – credit card only (MasterCard, Visa, American Express, Discover)

Inside venue – 3 units (1 unit at Section 105/106 and 2 units at Section 101 near the Main Entrance) – credit card (MasterCard, Visa, American Express, Discover) and coin only – Canadian currency only (5¢, 10¢, 25¢, $1, $2)
Other parking opportunities may be available as designated and posted
---
PAY BY PHONE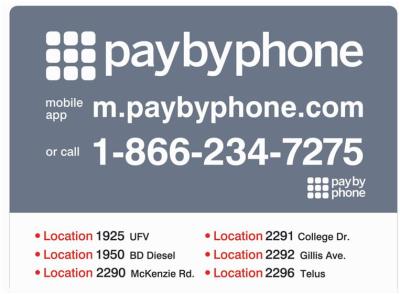 This system allows you to pay for your parking over the phone using your license plate by calling 1-866-234-7275 or visiting m.paybyphone.com or via the app which you can download below.  The instructions and location codes can also be found at the signage located at the meters. 

​CLICK HERE  for BC Transit Routes and Times