The National Day of Truth and Reconciliation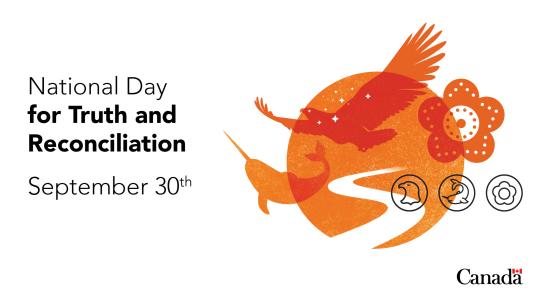 In Honour of The National Day of Truth and Reconciliation, The Abbotsford Centre and the Envision Financial Box Office will be closed tomorrow - Thursday, September 30.
We would like to acknowledge the traditional ancestral unceded shared territory of the Sumas First Nation and Mastqui First Nation. These two First Nations are part of the Stό:lō Nation. The Stό:lō people have lived in the Fraser Valley for 10,000 years. We express our gratitude and respect for the honour of living and working in this territory.
We're encouraging our staff to use the time off to learn more about Indigenous culture, the history of residential schools and the ongoing effects as well as what we can do to further reconciliation.
We encourage our fans to do the same and learn more about the National Day for Truth and Reconciliation and Orange Shirt Day.
National Day for Truth and Reconciliation was first observed in Canada in 2013 to honour the healing journey of Canada's residential school survivors and to commit to the ongoing process of reconciliation. The Government of Canada recently passed legislation to make the National Day of Truth and Reconciliation be a federal statutory holiday beginning this year.
September 30 also marks Orange Shirt Day. Orange Shirt Day is an Indigenous-led grassroots commemorative day that honours the children who survived Indian Residential Schools and remembers those who did not. This day relates to the experience of Phyllis Webstad, a Northern Secwpemc (Shuswap) from the Stswecem'c Xgat'tem First Nation, on her first day of school, where she arrived dressed in a new orange shirt, which was taken from her. It is now a symbol of the stripping away of culture, freedom and self-esteem experienced by Indigenous children over generations. Learn more about Orange Shirt Day by visiting https://www.orangeshirtday.org
On September 30, all Canadians are encouraged to wear orange to raise awareness of the tragic legacy of residential schools, and to honour the thousands of Survivors. To donate directly to the Orange Shirt Society, visit www.orangeshirtday.org/donations
Learn more about the National Day for Truth and Reconciliation by visiting https://www.canada.ca/en/canadian-heritage/campaigns/national-day-truth-reconciliation.html
Follow Tourism Abbotsford on Instagram tomorrow as they dedicate their stories to sharing local resources and events you can patriciate in throughout the Fraser Valley that focuses on the importance of this day. CLICK HERE to visit their Instagram page.
The Residential Schools Crisis Line is available 24/7 for anyone experiencing pain or distress as a result of ongoing impacts of the Residential school system. Call 1-866-925-4419.