COVID-19 - Abbotsford Centre Event Update - April 16, 2021
Here is the list of our events and the status of each at this time. Please note, there will be additional changes to this schedule. New dates for all rescheduled events will be announced in the coming days/weeks. You will be notified of any changes to upcoming events via Abbotsford Centre social media, website and email. Please hold on to your original event tickets as they will be valid for the new date.  Thank you for your patience as we adjust our event schedule.
• Rescheduled = a new date is already in place for this event
• Postponed = we are currently working on scheduling a new date for the event
• Cancelled = event will not be taking place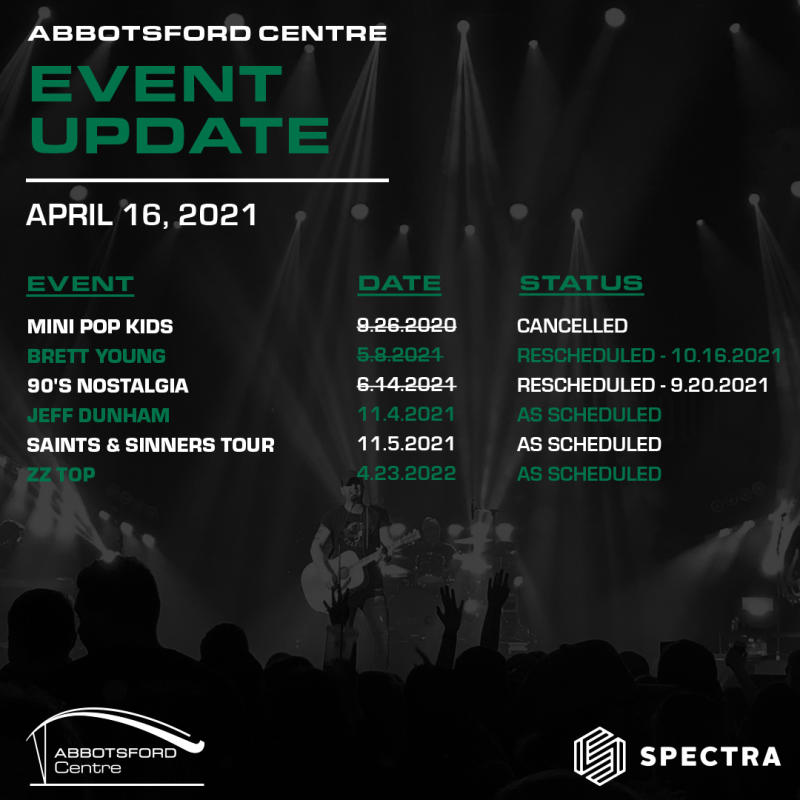 Below are links to the event pages for the reschedule, postponed or cancelled events where you may find the most up to date details:
---
Abbotsford Centre COVID-19 Safety Plan
As we host hockey in our facility, the Abbotsford Centre Covid-19 Safety Plan informs and educates workers, patrons and clients that we are doing our part in the fight against COVID-19 and all pathogens and viruses.
This plan is divided into sections based upon WorkSafe BC's guidance on COVID-19 as well as new equipment and cleaning and sanitation procedures that are being implemented throughout the facility.
*Please note all cleaning and sanitation measure will follow all current orders by the Province of British Columbia. All measures in this document may be updated and amended without notice.  
Read the Abbotsford Centre's COVID-19 safety plan HERE.
In accordance with orders set out by the Province of British Columbia, no more than 50 people will be allowed in the venue at one time. There will also be specific entry and exit points for the venue, with several areas being closed at this time. To view entry/exit points, please view our event-level map HERE.